On the First Day of Christmas
A Wrestling Addicted Mommy gave to me....
A Game for my kids to give me some peace....
W
ho doesn't love Build-A-Bear workshop? I have yet to mee
t one person who can say they don't like that place. I know it's a hit with our family and our girls as well.
When I heard about the Build-A-Bear game for the Nintendo Wii I was very excited. My girls would probably just love this game and so would I to tell you the truth. I'm sure you and your family would enjoy it just as well.
The Build-A-Bear Workshop® A Friend Fur All Seasons Nintendo Wii game is rated E for everyone and enables up to four people to play. With 20 mini games as well as the ability to build, name, feed, groom and dress your own bear and share adventures with them, this family-friendly interactive game is an experience any family would enjoy. You and your bear can have adventures together on the four season-themed islands as well as interacting with each other, finding treasure spots and collecting medals and rewards.
In honor of the launch of the Build-A-Bear Workshop® A Friend F
ur All Seasons Nintendo Wii game,
The Game factory
will be
auctioning
off celebrity-built Build-A-Bear Workshop bears, along with autographed copies of the Build-A-Bear Wii game. These bears and signed games will be on eBay's Giving Works to raise money for the Ronald McDonald House Charities of Southern California. These one-of-a-kind bears were built by celebrities like Tori Spelling & Dean McDermott, the Jonas Brothers, James Gandolfini, Melissa Joan Hart, Bonnie Hunt, Mitchel Musso, Meaghan Jette Martin and more."
What a great Christmas gift that could be for someone special.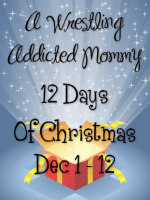 Part II of my First Day of Christmas
will be to give YOU the chance to win the Build-A-Bear Workshop® A Friend Fur All Seasons Nintendo Wii game. All you have to do is either head over to
The Game Factory website
and tell me one of the games on their site you're interested in, or go to the
eBay Giving Works Celebrity Build-A-Bear Auctions
and let me know which auction you would bid on.
For extra entries (please leave each extra giveaway in a separate comment, each will earn you an extra entry):
• Blog about this giveaway and leave me the link
• Subscribe to my blog via
RSS
or Email
• Add my blog to your blogroll or my 12 Days of Christmas button to your sidebar
• Follow me on
Twitter
(lyricsmama)
This giveaway is open to those with a US mailing address ONLY!!! And is open to non bloggers, PLEASE just remember if your blog profile is private, or you're a non blogger, leave an email address or your entry will be disqualified....Winner will be chosen via random.org
Giveaway Ends December 12, 2008 @ 11:59pm