On the Twelfth Day Of Christmas A Wrestling Addicted Mommy gave to me
....
A T-shirt designed for the weird in me....
W
eird is Good....All children know this, including Evan Cals and he likes to express that fact by creating tee's! With the creation of the
Weird is Good
website a new line of tee's has been created, that are interesting, fun, weird and cute all at the same time.
Evan Cals is an 11 year old artist, musician and entrepreneur. He's been drawing and painting for a very long time and has always shown interest in putting his designs on tee's. Not only has he created his very own t-shirt
designs, but he's also created designs for Olive Dimpleton's and Bead Gallery Inc. as well as designing tee's for lots of his lucky friends.
His latest characters are kind creatures with lots of attitude and quirkiness. His inspiration for his characters? His weird parents, his wild sister and his own wacky weirdness. As a child we all know life is fun and weird is good. So why not share that with your own child?
Check out Evan's creations by visiting his website
www.evancals.com.
It's so great to see children creating items for themselves and others, make sure you give Evan some credit as well! I'm sure you're children would love to know they're wearing a design inspired by someone just like themselves.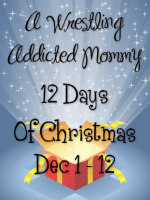 On this Twelfth Day of Christmas one lucky reader can win the Evan Cal's creation "Peace Earthling" for their child or themselves (please note the Adult Large is sold out until 2009). Simply visit the
Weird Is Good website
and take a look at his t-shirts. Then come back here and let me know which color/size you'd choose.
For extra entries (please leave each extra giveaway in a separate comment, each will earn you an extra entry):
• Blog about this giveaway and leave me the link
• Add my special 12 Days of Christmas button to your blog
• Subscribe to my blog via
RSS
or Email
• Follow me on Blogger
• Follow me on
Twitter
(lyricsmama) and tweet about this giveaway
This giveaway is open to those with a US mailing address ONLY!!! And is open to non bloggers, PLEASE just remember if your blog profile is private, or you're a non blogger, leave an email address or your entry will be disqualified....Winner will be chosen via random.org
Giveaway ends December 13, 2008 @ 11:59pm