On the Eleventh Day of Christmas A Wrestling Addicted Mommy gave to me
...
A book personalized especially for me....
M
y girls just love to read, and when I find books that I can customize for them, not only are they excited but I am too. Being able to tailor the story so it keeps their interest is so much fun. Allowing them to actually be part of the story by having their name involved, their favorite people, and even their favorite things is a treat, and a nice surprise to a child when you open the book for the first time and they hear they're actually a character in the story.
Kustom Memories
is one of the great companies that can make this happen. This small family owned companies focuses on making fun, educational, personalized products for children. Kustom Memories knows that when children become part of what they read, see and listen to, it builds confidence and self-esteem while increasing literacy and retention. They make sure that they send out the highest quality items and believe in first class customer service.
I recently was able to personalize a book for my youngest for her 3rd birthd
ay that's coming up. We decided on the book
African American Hero's
. This book takes you on a magic carpet ride to dreamland where you'll meet famous African American hero's. The book was hardcover (and get this, the hardcover is washable!!) Inside we found my daughters name, age, city & state. We were also able to incorporate friends/relatives that help make the story even more interesting. Inside the first page when you open the book we also had a special Happy 3rd Birthday message to her.
I love this company, with so many great personalized items, including but not limited to books, this is place is the perfect place to find the perfect gift for that special child.
You can visit
www.kustommemories.com
to find out more about their personalized books or other items that they carry.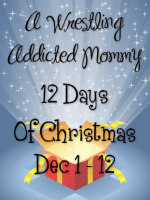 This Eleventh Day of Christmas one lucky reader will win a personalized Kustom Memories book just for their child or someone they know. All you have to do is head over to the
Kustom Memories website
and tell me what book you would choose if you won, and who it would be for.
For extra entries (please leave each extra giveaway in a separate comment, each will earn you an extra entry):
• Blog about this giveaway and leave me the link
• Bookmark this giveaway somehow be it stumble, digg, etc just let me know which
• Add my special 12 Days of Christmas button to your blog
• Add my blog to your blogroll or my button to your sidebar
• Fave A Wrestling Addicted Mommy's Blog on Technorati
This giveaway is open to those with a US MAILING ADDRESS ONLY!!! And is open to non bloggers, PLEASE just remember if your blog profile is private, or you're a non blogger, leave an email address or your entry will be disqualified....Winner will be chosen via random.org
Giveaway Ends December 13, 2008 @ 11:59pm