On the Twelfth Day of Christmas A Wrestling Addicted Mommy gave to me
...
Jewelry to keep me happy!!
W
ho doesn't love the gift of jewelry for Christmas? I know on my list that's one of the top things. Not that I'm looking for an expensive diamond tennis bracelet or anything (although that would be nice), but just things like a necklace and earrings, small things that tend to make a woman happy.
This season if your shopping for any jewelry make sure you check out the
Docia Lynn Boutique
. Not only are their prices affordable and
their designs make great gifts, but you can also earn free jewelry if you host an on-line jewelry party. Docia Lynn Boutique has jewelry for just about anyone and every occasion, even if you need something for a party favor or something for a baby/bridal shower.
One of my favorite pieces is the striking
black crystal-cut glass beads necklace & earing set
. This necklace set is so versatile and can be worn with any outfit and would look great on that New Years Eve outfit you'll be wearing out this year.
Be sure to check out the Docia Lynn Boutique at
www.docialynn.com
if you looking for a gift for someone or even yourself this holiday season.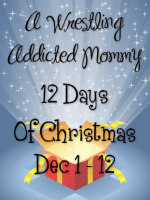 On this Twelfth Day of Christmas you can win my favorite piece from Docia Lynn. One lucky reader will win a Black Crystal-Cut Glass Beads Necklace Set. All you have to do is visit the
Docia Lynn Boutique
and come back here and let me know what other piece you like on their website besides the one we're giving away.
For extra entries (please leave each extra giveaway in a separate comment, each will earn you an extra entry):
• Blog about this giveaway and leave me the link
• Bookmark this giveaway somehow be it stumble, digg, etc just let me know which
• Add my special 12 Days of Christmas button to your blog
• Add my blog to your blogroll or my button to your sidebar
• Fave A Wrestling Addicted Mommy's Blog on Technorati
This giveaway is open to those with a US MAILING ADDRESS ONLY!!! And is open to non bloggers, PLEASE just remember if your blog profile is private, or you're a non blogger, leave an email address or your entry will be disqualified....Winner will be chosen via random.org
Giveaway Ends December 13, 2008 @ 11:59pm