On the Sixth Day of Christmas A Wrestling Addicted Mommy gave to me
....
$50 bucks to make someones day
....
T
he Holiday's are just around the corner, and if you haven't thought about them already you sure are right about now, and included in that, is who you need to send out those holiday cards to. The other decision you have to make, is what holiday cards your sending and where your going to get them from. I have that solution for you.
Paper Shouts
is the ultimate creator of cards for any event, including
holiday cards
. They have a variety of cards to please just about anyone that come in traditional, vintage, and modern designs. The easy on-line process allows yo
u to select your card of choice on-line, and then personalize it with a family photo. Paper Shouts is so quick, you'll have your cards in less than a week!!! Paper Shouts cards are all printed on 100% Post Consumer Waste recycled paper.
In addition to their holiday cards, you can find at Paper Shouts fun and unique personalized
note cards
, perfect for adding to those gifts for mom, grandma, friends or teachers. With your personalized note cards you can show that you took the time to find the perfect gift such as that much wanted
car cover
and personalize it exactly for the recipient. A 15 count set of note cards can be purchased for less than $25.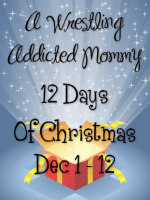 On this Sixth Day of Christmas Paper Shouts wants to help you with your card needs. One winner will be chosen to win a $50 Gift Certificate to Paper Shouts. All you have to do is head to the
Paper Shouts website
and take a look at their
holiday cards
, then come back here and let me know which holiday card(s) you like best on their site.
For extra entries (please leave each extra giveaway in a separate comment, each will earn you an extra entry):
• Bookmark this giveaway somehow be it stumble, digg, etc just let me know which
• Subscribe to my blog via
RSS
or Email
• Add my blog to your blogroll or my 12 Days of Christmas button to your sidebar
• Follow me on Blogger
This giveaway is open to those with a US mailing address ONLY!!! And is open to non bloggers, PLEASE just remember if your blog profile is private, or you're a non blogger, leave an email address or your entry will be disqualified....Winner will be chosen via random.org
..
This giveaway will end a day earlier than the 12 days of Christmas lasts as there is a deadline that needs to be met.
Giveaway Ends December 12, 2008 @ 11:59pm