On the second day of Christmas A Wrestling Addicted Mommy gave to me
......
A $25 gift certificate for some cute tee's...
C
uteness is a factor in a lot of my girls clothing, and when I saw a great shop called
Olive Dimpleton's
cuteness is what I found!
Founded by three mom's, Olive Dimpleton's strives to give you the cutest and freshest fun and funky designs just for your children. You'll find the cutest and the most unique items for your child or someone else's, who wants to look just like everyone else? I know I don't, neither do
my girls, and thats why we just LOVE Olive Dimpleton's.
We got the cutest shirts for the girls. Aria sports her
Mam
a Organic T-shirt
around so much, the cute tattoo design with the cherry print "that's my mama" fabric and even a matching
sweet pea kiddie bag
to go with it, she just looks adorable!
Lyric's tee was made just for her, Olive Dimpleton's couldn't have found the better t-shirt for my 5 year old. The
Diva Organic T-shirt
with the "don't be silly jelly" fabric and of course another matching bag, she looked like the true diva she is.
There are so many other cute designs from them you don't know where to start with your purchase, designs like
Grabby
, and
Not a Buoy
are just a few of my favorites. What I love about Olive Dimpleton's is not just the designs they offer, but the fact that I can get a matching bag or hat to go along with it, and I can pick the outlining fabric as well. So much customization to make you
r item even cuter than it already is. Speaking of customization, you can also get
personalized
items from Olive Dimpleton's as well.
All of their clothing is made in the USA and in sweatshop-free environments, as well as their tee's being certified organic and and sewn. You're sure to get a one of a kind item with the quality, uniqueness and cuteness that you want on your child.
Visit
Olive Dimpleton's
to get one of those great unique Christmas gifts for that child who has everything.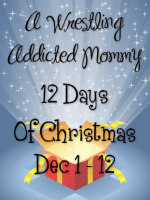 Just in time for the holidays, on my second day of Christmas you now have the opportunity to have some of the cuteness to yourself. Olive Dimpleton's has offered to give my readers a $25 gift certificate to their shop. All you have to do to be entered is head over to the
Olive Dimpleton's website
and let me know what you would spend your $25 gift certificate on if you won.
For extra entries (please leave each extra giveaway in a separate comment, each will earn you an extra entry):
• Bookmark this giveaway somehow be it stumble, digg, etc just let me know which
• Subscribe to my blog via
RSS
or Email
• Add my blog to your blogroll or my button to your sidebar
• Fave A Wrestling Addicted Mommy's Blog on Technorati
• Add my special 12 Days of Christmas button to your blog
This giveaway is open to those with a US mailing address ONLY!!! And is open to non bloggers, PLEASE just remember if your blog profile is private, or you're a non blogger, leave an email address or your entry will be disqualified....Winner will be chosen via random.org
Giveaway ends December 12, 2008 @ 11:59pm