On the Eleventh Day of Christmas A Wrestling Addicted Mommy gave to me
...
Organization for my kiddies...
A
simple way to help your kids learn about organization is by using a chore chart. Keeping them interested in that chore chart is another thing.
Stork Unique Baby Goods
has a great 'chore chart' that will keep your kiddos interested and help you teach
them a bit more about organization.
Recommended for children ages 3 and up, the
2 Fish Toys magnetic week
ly
calender
, is perfect for showing your little ones how their days can be just a bit more organized. It will keep their interest and attention because of it's colorful, playful and personalized ways it helps you plan your day and week. Not only will it help your child
stay more organized but it will help you teach them the days of the weeks, seasons, weather and more. The calender's back is fully magnetic so it's easy to put up on your fridge, it has 58 activity, season and weather magnets, a dry erase marker and a reusable storage bag.
Why not help your child participate and anticipate their daily and weekly routines and learn all at the same time! Visit
www.storkbabyboutique.com
to learn more about the 2 Fish Toys magnetic weekly calendar and take a peek at their other great items as well.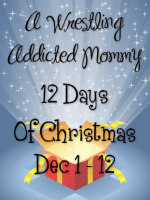 On this Eleventh Day of Christmas one lucky reader will win their own 2 Fish Toys magnetic weekly calender. All you have to do is head over to the
Stork Unique Baby Goods website
and take a peek around at the other items they have, then come back here and tell me one other item they carry besides the 2 Fish Toys Magnetic Weekly Calender.
For extra entries (please leave each extra giveaway in a separate comment, each will earn you an extra entry):
• Blog about this giveaway and leave me the link
• Add my special 12 Days of Christmas button to your blog
• Subscribe to my blog via
RSS
or Email
• Follow me on Blogger
• Follow me on
Twitter
(lyricsmama) and tweet about this giveaway
This giveaway is open to those with a US mailing address ONLY!!! And is open to non bloggers, PLEASE just remember if your blog profile is private, or you're a non blogger, leave an email address or your entry will be disqualified....Winner will be chosen via random.org
Giveaway ends December 13, 2008 @ 11:59pm