On the Eleventh Day of Christmas A Wrestling Addicted Mommy gave to me
...
$20 for my holiday...
H
oliday cards are a pretty personal thing, choosing the right one to send to people says a lot. It represents you and you family so why not take your time, browse around and find the perfect holiday cards just for you. Simple Salutations wants to help you in that choice.
Simple Salutations
is a small company started by two sisters who are also bot
h moms. Kris is the designer and comes from a background of working with Walt Disney animation where she worked for 8 years. Shea comes from a background in human resources and is now a stay-at-home mom. Together this is a business they have planned for many years and are so happy to finally have gotten it off the ground.
Simple Salutations not only has great holiday cards, but also features great notecards, thank you cards, birth announcements as well as birthday and many many other types of celebrations or occasions where you need a card or invitation.
So for your next occasion, or if your looking for a great last minute holiday card, stop by
www.simplesalutations.com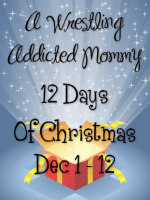 On this Eleventh Day of Christmas you can win a $20 gift certificate to Simple Salutations. All you have to do is head over to the
Simple Salutations
website and take a look at their
holiday cards
. Come back here and leave me a comment on which holiday card is your favorite.
For extra entries (please leave each extra giveaway in a separate comment, each will earn you an extra entry):
• Blog about this giveaway and leave me the link
• Bookmark this giveaway somehow be it stumble, digg, etc just let me know which
• Add my special 12 Days of Christmas button to your blog
• Add my blog to your blogroll or my button to your sidebar
• Fave A Wrestling Addicted Mommy's Blog on Technorati
This giveaway is open to those with a US MAILING ADDRESS ONLY!!! And is open to non bloggers, PLEASE just remember if your blog profile is private, or you're a non blogger, leave an email address or your entry will be disqualified....Winner will be chosen via random.org
Giveaway Ends December 13, 2008 @ 11:59pm