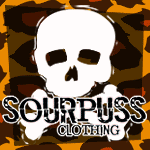 If your anything like me, I'm not one that goes for the 'kiddy' look too much on my girls. Some of the things they have for kids is just plain UGLY. Sometimes I like my girls to dress a little more, 'fashionable' or 'on the edge' rather than in some pink and flowery cute little Disney outfit.
The perfect compromise.
SourPuss Clothing
. They have a great kids line with some great styles of 'punk' clothes for both boys and girls. Nothing too outrageous, a little more of that 'on the edge' styling and I love it!
Not only do I love it, but my girls do as well. They're girly enough for them, and different enough for them to have some independence with their clothing.
Lyric (4) got the
Kids Babydoll Sparrow Print in Pink
. It's just adorable. She loves the 'birds' and the stars on the print, and pink is her favorite color by far, so it fits her perfectly.
The Sparrow Print shirt is in neon
pink (but to me, is more just like a light pink rather than neon) kids babydoll with ruffle sleeves, All over sparrows & nautical stars printed all over the front
. In a size 5T I thought at first it looked like it might be a little small, but was the perfect fit once she had it on. The shirt was nice and stretchy and soft. The
Sparrow Print
retails for $23.00 in sizes 2T - 5T.
Aria (2) got the
Kids Babydoll WEBBED SKULL tee.
Kids ruffle sleeved fitted babydoll tee with webbed skull design. This shirt is just too cute, Aria loves it, her and Lyric both call it a girls pirate shirt lol. In a size 3T this shirt fit Aria perfectly, lots of stretch and the shirt is nice and soft as well. I wasn't too sure about her and a skull at first, but the skull is kid friend
ly and not scary at all, it even has a little bow on its head, its adorable. The Webbed Skull retails for $22.00 in sizes 6mths - 5T.

SourPuss Clothing has more than just tee's for both children and adults, you can find jackets, bottoms, dresses, diaperbags, bibs and accessories. If you're one of those people who like a little more 'edge' in your clothing, SourPuss Clothing is the place to be.

Mother's Day is coming up, why not pick something up that's a little more unconventional for mom instead of the same old thing?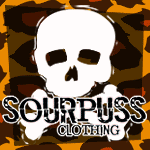 Want To Win A T-Shirt from SourPuss Clothing?????



CONTEST CLOSED WINNER ANNOUNCED!




Up for grabs right now as well, is a great Women's Tee from
SourPuss Clothing
. This shirt is a Band Tee in a women's size Large. The shirt is a
DAVID BOWIE ALLADIN SANE Tee.
Made by Sourpuss.Light blue girly tee with red & blue David Bowie Alladin Sane. The shirt retails for $27.00 but one lucky reader of A Wrestling Addicted Mommy's Blog can win this for themselves.
How To Enter:
Easy to enter, just go to
SourPuss Clothing
and find an item you'd mostly likely buy from the website if you had a choice of anything. Then come back here and comment on this post with your choice. Please leave a valid email address so that I can contact you if you are the winner.
Anonymous entries are allowed, just please remember to leave a valid email address.
Please make sure you go to SourPuss Clothing and let me know which product you would choose from there, if this is not in your comment you will be disqualified from the contest.
Want an extra entry???


If you want an extra entry into this giveaway, post about this giveaway on your blog and come back here and comment with your link. Please post SEPARATELY from your initial comment a link to your blog about this contest.
All winners will be chosen using random.org, Contest closes April 29th 2008 at 8pm EST. Winners will be announced and contacted by May 1st 2008.