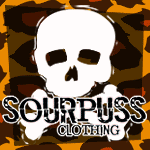 Thank you to all who entered into the
SourPuss Clothing giveaway
for the David Bowie Tee.
The contest closed last night at 8pm EST. All entrants were asked to go back to
SourPuss Clothing
and find their favorite item in order to be entered into this
giveaway
.
The winner was chosen randomly we had 57 eligible entries.
The winner of the David Bowie Tee from
SourPuss Clothing
is:
#43
Mary
said...
I liked the ladies CS Trailer Trash Tshirt...
Congrats Mary!!! Thank you to all who entered, I will be contacting Mary shortly. Be on the lookout for new reviews and giveaways this week!