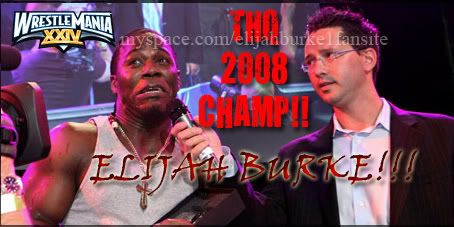 Wrestlemania 24 weekend is upon us. It's the most exciting wrestling event of the year!! The Superbowl of wrestling.....
I'm sad that this year I will be missing out on being there at the event, unlike last year. But parenting duties call, and there's always Wrestlemania 25.
One of the first events of the weekend is the annual THQ Superstar Challenge. Where WWE wrestlers compete with each other on the RAW vs. SMACKDOWN video game.
My personal friend, Elijah Burke was once again VICTORIOUS in becoming the THQ 2008 Superstar Challenge Champ!!! Beating newcomer Kofi Kingston this year.
Congrats to Elijah, hopefully this is a look into the future of him becoming our next ECW Champ.