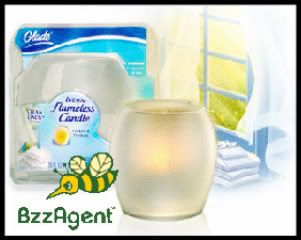 I am a member of a great website called
BzzAgent
. This is a place where you can sign up for different campaigns for products and you get to review them.
Recently a campaign for Glade® Wisp® Flameless Candles was offered to me, so I jumped on the opportunity to try this product out.
The Glade® Wisp® Flameless Candle combines continuous puffs of fragrance with a warm, flickering glow, letting you enhance the mood in any setting. Looks so real, you'd never know it wasn't a real candle.
I find this idea to be genius. Especially for those with younger kids. You get the great scent of a candle, the great look of a candle, without the dangerous flame. There's no more worry about having to not burn the candles when the kids are around, no more worrying about them even touching a flame. I also love the fact that you can control the amount of fragrance that comes out. On the bottom of the candle there's a setting where you can adjust it to be a little or a lot of fragrance that 'puffs' out of the candle.
Another great feature is the automatic shut off. The candle will run for a 3 hour time period and then automatically shut itself off.
I really love this product, and definitely will be purchasing more when I run out of my fragrances. If your a mom, this is a great item for you. Even if your not a mom with small kids, you have the ability to have a great candle without the messy cleanup of dripping wax, no worries about one of the pets accidently knocking it over. Just a great item overall, I recommend it highly.
If you'd like to check it out, right now Glade is offering a $5 off printable coupon. You can find it by clicking on the following link:
Glade® Wisp® Flameless Candle