Can you believe this???
It's March 28th, 2008. A whole week since the first day of Spring. And what's the weather like here in Ohio?
SNOW! SNOW! SNOW!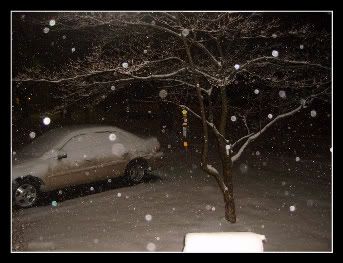 It's unbelievable!!! I don't think that this winter is EVER going to end.
Where are the birds? The sunshine? Where is spring????
The girls are even sick of the snow. Lyric's words out of her own mouth today when she saw it was starting to snow were: "Mommy, it's snowing AGAIN, we're never going to go to the park now!"
Poor girl, most of the time kids love snow, love that they can go out in that cold, icky fluffy stuff and run around and build snowmen and make snow angels, but I guess once you've had this much snow, you've had enough, even if your a 4 year old little girl!