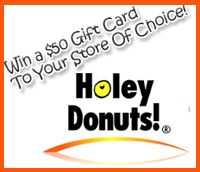 H
oley Donuts is right!
Have you entered yet for your chance to win some yummy donuts and a $250 store credit to Holey Donuts, as well as your chance to win a $50 Gift Card FROM ME if I'm chosen as the winner blogger? What? You haven't??? Then what are you waiting for? Head on over to
THIS POST
and see how you can enter!
Yea Yea, we're all trying to loose weight, and donuts aren't exactly anything like the
best multivitamin
, but they are hand made, and they are low fat, and they are YUMMY!!! So be sure to check them out at
www.holeydonuts.net
.
While you're visiting Holey Donuts, be sure to check out their yummy selection of low fat donuts and be sure to use your coupon code
VDAY1
at checkout to take advantage of the Buy 2, Get 1 Free assortment of donuts!!!