On the Seventh Day of Christmas A Wrestling Addicted Mommy gave to me

....

Some great CD's to keep me moving...


N
ow, this is probably a post you'd never thought you'd see from me. I'm very much a 'music snob' as my husband calls me. I'm not too opened minded when it comes to music, I listen to mostly Hip-Hop, R&B, and Reggae music. Once in a while you'll find me listening to some pop, or some other genre of music and sit there and go hmmm, that's odd. I never thought she'd listen to that. Well this is one of those times.
Have you ever heard of the group
Il Divo
? I remember hearing about them a few years ago and being intrigued by the wonderful sounds of their voices. I've never owned a CD or their music, and never thought much about them unless I caught them on TV the odd time. I can now say I'm the proud owner of some Il Divo music.
In case you've never heard of them, Il Divo was brought together by Simon Cowell (you know, the mean British guy on American Idol) in 2004 he didn't just take a look at some
Las Vegas resumes
or anything to find the group Il Divo, in fact there was an
extensive worldwide audition process. The blending of operatic technique and romantic and popular songs took the world by storm. They've had three albums, 'Il Divo', 'Ancora', and 'Siempre' which have scored 36 number 1 chart positions across 26 different countries.
Il Divo's music is just captivating, not only do the guys look good but their voices impress even more. Even though I'm not a fan of this type of music, Il Divo reel's me in and captivates me to listen to more and more of their beautiful songs.
The Promise Luxury Edition is their newest album that are in English, Italian and Spanish and even though I can't understand what they're singing sometimes, the songs speak to me. The music and their voices are just hypnotic
and keep you listening to their brilliant talent. The music is soothing and romantic and perfect for those 'adult dinners' or parties as background music.
Il Divo also now has The Christmas Collection which features classic Christmas songs sung beautifully. I'm normally not a Christmas music fan either (I know scrooge lol) but this CD plays along with my favorite Boyz II Men Christmas album in the background this season when I'm cleaning or cooking or baking those cookies.
I highly recommend checking out Il Divo if you haven't already. You can check out their website
www.ildivo.com
or you can purchase The Promise or The Christmas Collection at
Amazon.com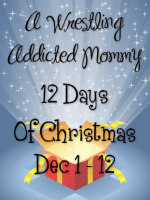 On this Seventh Day of Christmas thanks to the
One 2 One network
, you can win 2 Il Divo CD's for yourself. Both The Promise and The Christmas Collection can be yours by simply visiting the
Il Divo website
and then coming back and tell me what you think of them or if you've even heard about Il Divo before.
For extra entries (please leave each extra giveaway in a separate comment, each will earn you an extra entry):
• Blog about this giveaway and leave me the link
• Subscribe to my blog via
RSS
or Email
• Add my blog to your blogroll or my 12 Days of Christmas button to your sidebar
• Follow me on
Twitter
(lyricsmama)
This giveaway is open to those with a US mailing address ONLY!!! And is open to non bloggers, PLEASE just remember if your blog profile is private, or you're a non blogger, leave an email address or your entry will be disqualified....Winner will be chosen via random.org
Giveaway Ends December 12, 2008 @ 11:59pm