I hear so many people who have a hard time getting their kids to drink water instead of juice or soda. Thankfully my girls are pretty good and I don't have that issue, although they do prefer juice over water any day, they enjoy the flavor and who can blame them. Thankfully there's a product out there to help us moms with 'picky drinkers' that enables kids to drink more water.
Nui Kid Water
not only tastes great, but is a good alternative to water and gives kids the flavor they crave. Nui Kid Water is made from all natural ingredients, has low sugar, added vitamins & minerals, as well as dietary fiber and antioxidants. Nui Kid Water also wants to curb the epidemic of child hood obesity, so the caffeine free green tea antioxidant present in Nui also helps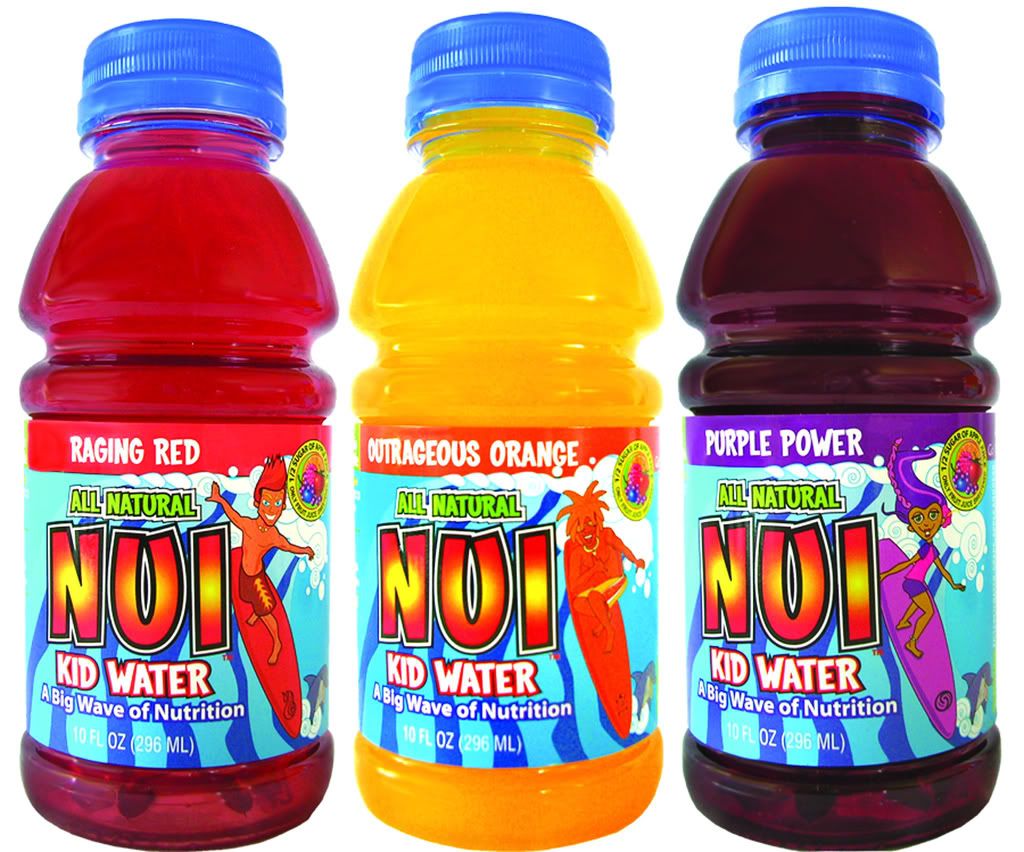 burn fat and inhibits the growth of bacteria in the mouth that can cause cavities. The high level of calcium helps burn fat…See for yourself, take a look at their
nutrition fact sheet
.
Nui Kid Water is formulated just for kids, but believe me, Nui water tastes so good, that Adults will be chugging them down just the same, I know I did. My girls enjoyed Nui Kid Water that it didn't last very long in our house. The three great flavors: Outrageous Orange, Purple Power, and Raging Red were all a favorite; the girls couldn't pick just one.
I felt good giving my girls something healthy to drink, giving them more water and even though flavored with real fruit juice, it has half the sugar of apple juice and there's also no high-fructose corn syrup inside. Visit the Nui Kid Water website at:
www.nuiwater.com
, it's a pretty cool website, and you can find more information about Nui Kid Water there, as well as where you can find it in your local area. Also in October they'll be coming out with even more flavors and a new packaging, so be on the lookout!
Win a Mixed Case of Nui Water!!!!!
Right here you can win you and your family a Mixed Case (12 bottles) of Nui Water, which includes all three flavors!!! All you have to do is visit the
Nui website
and tell me something interesting you found on the website, either about the website itself or of Nui Kid Water.
This giveaway is open to those with a US mailing address only!!! And is open to non bloggers, PLEASE just remember if your blog profile is private, or you're a non blogger, leave an email address or your entry will be disqualified....Winner will be chosen via random.org
For extra entries (please leave each extra giveaway in a separate comment, each will earn you an extra entry):
• Blog about this giveaway and leave me the link
• Stumble this giveaway
• Subscribe to my blog via
RSS
or Email
• Add my blog to your blogroll or my button to your sidebar
Giveaway Ends Sept. 23, 2008 @ 11:59pm EST