Ok, I admit, I'm like most other women out there, and I just LOVE to do some shoe shopping, not only for myself, but for my girls as well. The cuter the shoes the better. I ran into a little place called
Pediped
that just has THE MOST adorable shoes ever for children.
Pediped
shoes are a rubber-soled and soft-soled footwear for children (both boys and girls) that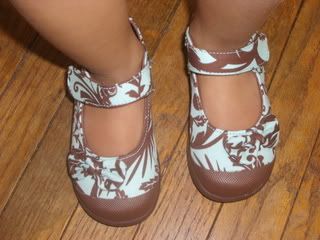 are not only affordable but stylish as well. My favorite is the new
Flex
line of rubber-soled shoes that range in size from 6 - 12 (toddlers). Not only are these shoes as cute as can be but they look and feel like they are one of the most comfortable shoes I've every gotten for my daughters. They're great for running around and playing both indoors and out.
In addition to soft, flexible soles, Pediped Flex features shock-absorbing air cushion technology which will protect the heels against impact and distribute the pressure throughout the foot, there's also an ultra flexible pedi flex-zone which is meant to support the natural food motion and provide maximum flexibility. These shoes also have a built in arch support which will assist in the healthy development of growing feet.
Pediped Flex shoes also come with a unique Flex Fit System. Each pair of shoes comes with a 2mm insole so that you can customize the fit of the shoe for each child. If your child starts out with both insoles being used, as the child feet grow, you can remove the additional insoles to extend the length of time a child can wear the shoes.

We love our Pediped Flex shoes, and I'm sure you will be thrilled with them as well. Check out www.pediped.com and use code hapr08 for free shipping.