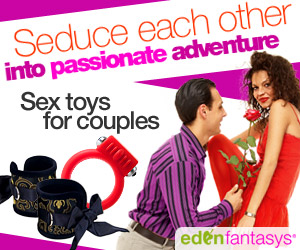 I'm so EXCITED!!! Next weekend is our weekend away!!! I can't tell you how excited I am! Me and hubby haven't been anywhere together alone, without kids, for an entire weekend in about 5 years. We didn't even get a honeymoon, so having the weekend away to the honeymoon capital (Niagara Falls) is even better.
Now, we've been to Niagara Falls about a million times, I grew up not too far from there, and my parents don't live to far from there so going there isn't a big deal, and honestly I have a feeling we won't be sight seeing much… Especially since I bought a nice new outfit from
EdenFantasys
! It kind of goes with the theme of my newest favorite song and video, and also my newest ring tone… Have you SEEN Rihanna's newest song S&M??? Check it out….
I may just have to recreate some of the video myself, I already have some toys that can help, but buying new ones that I can find in the
bondage and fetish
section from EdenFantasys is always more fun!!
Oh yea, one more thing... I just realized I never announce the winner of the
$50 EdenFantasys Gift Card
, SO SORRY!!!
The winner is....
Random Integer Generator
Here are your random numbers:
353 
Timestamp: 2011-02-09 14:11:58 UTC
Commenter #353: sarajennings said...
"Ass Family Extra Entry..." 3

sararjennings(at)yahoo(dot)com
Congrats!!! I'll be contacting you soon...