On the Seventh Day of Christmas A Wrestling Addicted Mommy gave to me
...
A Way to keep myself lean...
R
egular readers have heard about me talk about my struggle with weight loss, having to get back on track and trying to find products to help me along the way. I'm constantly looking for that item to help me, not to give me the quick fix, but just to give me that extra boost that I might need to help me along my weight loss journey.
Although I haven't done well myself right now, trying to loose weight during the holiday's seems to be one of the more dumber decisions for myself to have made, simply because, I have no will power and it's not working.
One person who has been successful in their weight loss journey is
Samantha Daleo
. Here's a bit of her story:
After 10 years of being overweight, unhealthy and miserable I finally found the answer. I have now lost 70 pounds and more importantly I feel FANTASTIC! I feel 10 years younger and healthier.
She's an inspiration, I could only hope to loose 70 pounds and some more during my journey to loose this dreaded weight. Samantha wants to help those of us out who need the help, the guidance and help us find a way to do things naturally and safely.
Samantha has teamed up with
Herbalife
and she's noticed the difference it's made in her life, I'm thinking about finding out the difference it can make in mine once the holidays are over. Herbalife offers safe and natural products to help not only with weight loss but your health and personal care in general through vitamins, shakes, lotions and various other products to keep you your best and healthy.
Visit Herbalife for more information
www.shopherbalife.com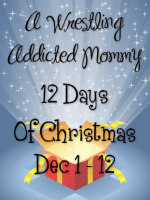 On this Seventh Day of Christmas Samantha and Herbalife have offered to have 2 lucky winners win some great Herbalife products. There will be two winners chosen randomly. The first winner will win a $50 Gift Certificate to Herbalife and the second winner will win a $25 Gift Certificate to Herbalife. What do you have to do to enter? Simply visit
Herbalife
and look around, then let me know what you would purchase if you won the gift certificate.
For extra entries (please leave each extra giveaway in a separate comment, each will earn you an extra entry):
• Blog about this giveaway and leave me the link
• Bookmark this giveaway somehow be it stumble, digg, etc just let me know which
• Add my special 12 Days of Christmas button to your blog
• Add my blog to your blogroll or my button to your sidebar
• Fave A Wrestling Addicted Mommy's Blog on Technorati
This giveaway is open to those with a US mailing address ONLY!!! And is open to non bloggers, PLEASE just remember if your blog profile is private, or you're a non blogger, leave an email address or your entry will be disqualified....Winner will be chosen via random.org
Giveaway Ends December 12, 2008 @ 11:59pm