On the second day of Christmas A Wrestling Addicted
Mommy gave to me
......
Some really cute Puff Doggies..
.
O
ne of my favorite places that you see a lot of here on my blog is Rocket USA, and they've come through again with another great, and unique product for your kiddos (or even yourself). From the line of
Gus Fink products
that they already carry, welcome
Puff Dogs
.
These are the newest 'creatures' created exclusively for Rocket USA by the artist Gus Fink. This collectible art plush will put a smile on anyones face, the cute but unique plush dogs come with a collectible mini-comix, trading cards and Puff Dogs checklist.
The six different Puff Dogs come in three different sizes. A 8" Puff perfect for cuddling with, a 5" Puff perfect for those little hands, and also a 2.5" Puff clip on perfect to take on the go!
The girls have viewed these new items and are ecstatic about them, they already love their Boogily's and can't wait to add the Puff Dogs to their collections.
Visit
Rocket USA
for these and other Gus Fink collectibles as well as the greatest toys around.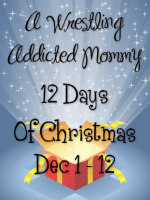 For part II of my Second Day of Christmas Rocket USA wants to give away to 12 lucky readers a 5" Puff Dog! Perfect for a stocking stuffer this Christmas. To enter, all you have to do is visit the
Rocket USA site
head over and visit the
Gus Fink collections
and check out all the
Puff Dogs
that they carry then let me know which one is your favorite!
For extra entries (please leave each extra giveaway in a separate comment, each will earn you an extra entry):
• Blog about this giveaway and leave me the link
• Bookmark this giveaway somehow be it stumble, digg, etc just let me know which
• Add my special 12 Days of Christmas button to your blog
• Add my blog to your blogroll or my button to your sidebar
• Fave A Wrestling Addicted Mommy's Blog on Technorati
This giveaway is open to those with a US mailing address ONLY!!! And is open to non bloggers, PLEASE just remember if your blog profile is private, or you're a non blogger, leave an email address or your entry will be disqualified....Winner will be chosen via random.org
Giveaway Ends December 12, 2008 @ 11:59pm