On the fourth day of Christmas A Wrestling Addicted Mommy gave to me
....
Cute shoes for my kiddos tootsie's.
..
W
ant to see the cutest shoes ever? A pair that not only your kids will love, but because of their durability and quality you'll love too? Well then welcome to the world of
Polliwalks
!
Polliwalks who have been featured in many different parenting and children's magazines so you may have seen them before. They're not your normal kids shoes at all.
Not only do they feature characteristics of animals such as puppies, ducks, frogs, kitty's, ladybugs and gators but they allow your child to play with some imagination as well. They can trek through the dirt leaving animal prints that favor the shoes they're wearing.
Their original shoes are just as cute as ever, and even for the colder seasons, Polliwalks features some of their shoes like the puppies and kitty's with soft
warm lining inside, so you can be sure to let you kids have fun with their Polliwalks all year round as they trek through the house like a dog or cat, keeping their feet warm and toasty.
Thinking ahead to the new year Polliwalks has just launched their new Spring 2009 line, which includes two new styles that any child would just JUMP at the chance of owning. The Fish Lips and Firefly styles are new an
d cute as ever and aren't just your regular Polliwalks either. The Fish Lips once out in the sunlight, will have your children in awe as they watch the lips change color right before their eyes. The Firefly's tail lights up and flashes as your child walks or runs around. Both of these are sure to be a hit with children this spring, you can get ahead and purchase them now from
Dillards
and
Zappos.com
.
You can find out more about Polliwalks by visiting their website
www.polliwalks.com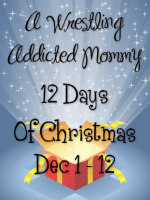 On this fourth day of Christmas Polliwalks has agreed to give away to one lucky reader a pair of Polliwalks in their choice of style/color and size (not including the new Fishlips or Firefly styles).
To be entered to win a pair of Polliwalks
(puppy, kitty, gator, duck, frog, or ladybug)
head over to their
website
and take a look around, then come back and leave me a comment on which style, color and size you'd like for your little one.
For extra entries (please leave each extra giveaway in a separate comment, each will earn you an extra entry):
• Blog about this giveaway and leave me the link
• Bookmark this giveaway somehow be it stumble, digg, etc just let me know which
• Add my special 12 Days of Christmas button to your blog
• Add my blog to your blogroll or my button to your sidebar
• Fave A Wrestling Addicted Mommy's Blog on Technorati
This giveaway is open to those with a US mailing address ONLY!!! And is open to non bloggers, PLEASE just remember if your blog profile is private, or you're a non blogger, leave an email address or your entry will be disqualified....Winner will be chosen via random.org
Giveaway Ends December 12, 2008 @ 11:59pm
Thanks to: Family Review Network