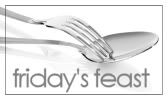 Appetizer
Name something you would categorize as weird.
Hmm, there's lots of things lol I'll say my children, they're quite weird at times.

Soup
What color was the last piece of food you ate?
White (Cottage Cheese)

Salad
On a scale of 1-10 with 10 being highest, how much do you enjoy being alone?
I'd say an 8, I do like being alone, although it doesn't happen much lol

Main Course
Fill in the blank: I will _NEVER_ vote for _ANYONE_ in _2008_.
Dessert
Describe your sleeping habits.
They suck. I go to bed late, wake up a few times during the night because my back is aching because we need a new mattress and then get woken up by little children too early in the morning.