They were so excited to see what was inside, we ripped the tape off, and they opened the box...
OH MY GOD!!!! Lyric Yelled... Aria shrieked.
They were so happy with their surprise from Grandma J.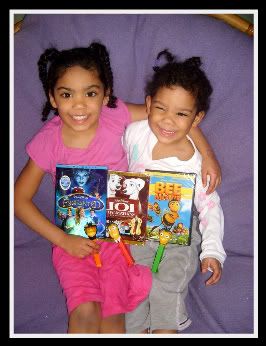 Inside their package was 3 movies. Disney's Enchanted, 101 Dalmatians and Bee Movie, which also included 3 Bee Pez. They girls were ecstatic. Now they sit, eating their lunch watching 101 Dalmatians, and CLINGING to their pez lol.
Thank You Grandma J!!!!!