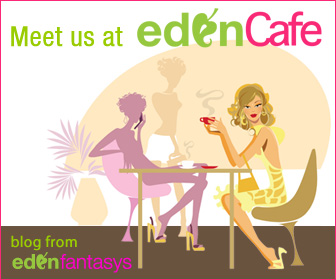 H
ave you heard about the wonderful world of sex and sex toys? I know, some people can be quite ashamed, quite embarrassed to talk about things like this, but honestly... I AM NOT!
We tend to have A LOT of fun in the bedroom, we have various toys, videos, outfits and more, and most of them have all come from
EdenFantasys
! I remember the first time I got my first toy, I was a little embarrassed to go out and buy it, I was also embarrassed for the first time hubby found out that I had toys (when we were dating). Yet now, it's normal for us, and something we both enjoy, A LOT!
Trying new things and opening up about your sexuality may be hard for some, but once you ease into it, you'll be happy that you did. EdenFantasys isn't just about
sex toys
, they've also got
forums
,
interviews
,
Sexis Magazine
, and the
Naked Book Club
. EdenFantasys is more about a community than just your typical Adult store.
So what are you waiting for, open up, live a little, join the community of EdenFantasys! Be sure to them out by visiting edenfantasys.com.